Ashis Guha,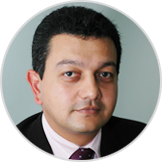 CEO II Startup Founder &Mentor II Technology Evangelist II Entrepreneur II Asia-Pac & ME


Proven business leader with an ability to articulate a vision, device a strategy with clear tie backs to business goals. Ashis possesses an ability to thrive in challenging and fast paced environments that require nimble thinking, quick decision making and results oriented mindset.


Ashis has rich experience of 20+ years of starting organisations from scratch and setting up businesses and catapulting them to global enterprises. Have held Leadership roles in organization like Sun Microsystems, Brocade, Sanovi, Netapp, Perpetuuiti, Wipro, HCL, etc & setting up business across Asia Pacific/ME. Have a proven track record of leading multi country and diverse teams with accumulated business and cultural experiences across Asia Pacific& Middle East.

His strong contribution to grow and build Sanovi helped it in getting recognized and eventually resulted Sanovi being acquired by IBM in Nov 2016. Whole gamut of exposure from start up to large Enterprises to MNCs in remote healthcare, eCommerce, IT Services and Solutions, Global Business Leaders etc. He has grown businesses consistently by leveraging multi - geography/culture/skill based teams into the organization's vision.


Ashis currently is an Entrepreneur of Excellence working with multiple startups/ organisations to achieve long term value with an eye towards the competition and future through his venture - An Idea Global Innovations LLP & Margosa Healthcare Pvt Ltd.


Ashis is leveraging the rich experience garnered over a period of two decades in supporting and mentoring Global Organisations who want to set up operations in India and vice Versa.


He is an avid cricket and football player with focus on social programs.
---