Captain Hemant Kumar Sachdeva, Principal Advisor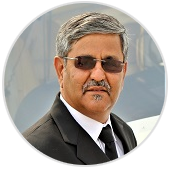 Captain Hemant Sachdeva joined the prestigious air arm (IAF) of our Defence Services as a Commissioned Officer in Helicopter stream of Flying Branch and had successful career for 21 years where he has a wide exposure and the opportunity to work in different capacities. He is a Helicopter Pilot with 8700 Hrs of flying experience on 8 different types and class of helicopters and fixed wing aircraft. Currently he is flying one of the most advanced machines AW139 in VIP Corporate role Ex Delhi. Trained QFI and have over 2000 Hrs of Instructional experience on different types. He is regularly in contact wide spectrum of Aviation Professionals including Senior Level Management. He had been taking Lectures and Organized talks on CRM besides writing articles and reports on accidents/ incidents in the IAF.
Specialties: Operational Management, Flight Safety, VIP Flying, Offshore Flying and Accident/ Incident analysis.


Some of his major accolades include:
He won The Best Helicopter Crew of IAF Competition twice in succession.

He was among the three short listed officers who were finally interviewed by The President of India himself for the appointment of ADC to the President in year 1990.

He has wide international exposure and has been on various overseas missions.

He was awarded Vayu Sena Medal by the President of India for his contribution to the operations in Siachen Glacier in 1999.
How we can help you?
To discuss how Ilo Consulting team can help your business achieve results, please
Contact us