Jayant Kumar Joshi, Principal Advisor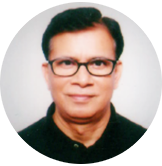 Mr. Jayant Kumar Joshi is a Chemical Engineer from IIT Roorkee with 35 years of rich experience in Hydrocarbon Industry. He is presently Heading the Environment, water, Sustainability and Safety Division in Engineers India Limited. He is a QCI accredited coordinator and Functional area expert for carrying out EIA.
Mr. Joshi has Successfully pioneered
"Zero Liquid Discharge"
system in the HP industries which includes Desalination of water to Produce DM quality water through membrane, resin and thermal routes from effluent. He was the leader of the team who Developed technologies for Spent caustic oxidation Process, VOC control & treatment, Confined oily sludge bioreactor to treat oily sludge & implemented them in industries. He has two patents in his name.
His main focus areas are Green hydrogen, Net zero emissions and water minimization in HC industry/ refineries.
Mr. Joshi also acts as external examiner/Guide to IIT students in their thesis work.
---