Abhishek Hans, Chartered Accountant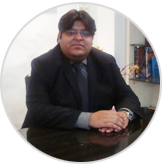 Abhishek Hans has completed his Bachelor of Commerce from Delhi University and Chartered Accountancy from the Institute of Chartered Accountants of India. Mr. Hans specializes in investment banking, strategic consulting, and he has been exposed to the best practices in corporate finance, and is excellent with numbers for which he was awarded "KV Chandramouli" Award while obtaining his membership as a Chartered Accountant.
He has also worked with a broad range of corporate & private clients and is experienced in dealing with mergers & acquisitions, due diligence and transaction support, company valuations and raising finance. He also provides professional advice on a broad spectrum of corporate work ranging from general corporate advice, company incorporation in India and abroad and advising on matters relating to Foreign Direct Investment in India. He plays a key role in obtaining government approvals for foreign investments and technical collaborations. He assists in obtaining approval from Reserve Bank of India & Foreign Investment Promotion Board for foreign investment in India. Mr. Hans also specializes in international taxation, in which he not only advises clients and helps foreign companies fulfill the compliance requirements in India but also on issues pertaining to cross border transactions and continues to be actively involved with the domestic taxation services offered by the Firm.
How we can help you?
To discuss how Ilo Consulting team can help your business achieve results, please
Contact us