Corporate Matching Program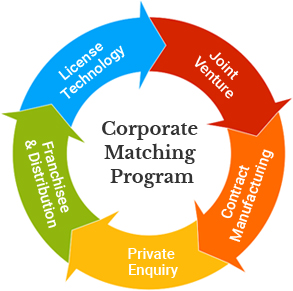 Corporate Matching Program is a flagship initiative of ILO Consulting. Operational in 23 countries, it is aimed at bringing together the world leading corporates & companies in form of Joint Ventures; licensing new technology; outsourcing manufacturing; franchisee & distribution; Private Equity, ECBs for fuelling their growth ambitions.
ILO Consulting is the founder member of this program. Corporate Matching is a closed ended program and we do not expect any fee or costs from you to participate in it. The Program gives a participating company (the existing participants have revenues ranging from USD 25 Million to USD 1 Billion), irrespective of the sector, the access to our exclusive network of 120+ advisors around the world having rights from numerous participant companies for strategic alliances and corporate finance advisory in diverse business sectors.
We have strong working relationship with leading law firms, Investment banks, and financial advisory firms across globe and especially the 23 countries belonging to the Corporate Matching Program network. We ensure significant value creation to our client's business via this unique platform.

Participating Countries
We are able to enrol you without any upfront fee or cost. In order to enrol your company in the program, please contact us to have the format of our Expression of Interest (EOI) document. To know the participating countries under Corporate Matching Program, please click here.
Opportunities
To know the complete list of opportunities available for your business, please contact us.
Further Information: www.corporatematchingprogram.com
ILO Consulting Services
How we can help you?
To discuss how Ilo Consulting team can help your business achieve results, please
Contact us