Gautam Khurana, Managing Director & Founder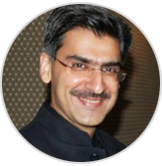 Gautam Khurana is an India lawyer, registered with Bar Council of India. He is the founder & Managing Partner at ILO Consulting.

He specializes in Foreign Inward Investments and Corporate Laws in India, with extensive experience in acquisitions & takeovers, corporate laws, cross border litigation & arbitration, project & structured financing and direct & indirect taxes both domestic & overseas jurisdictions.

Gautam Khurana has studied B.Com(H) from the prestigious Sri Ram College of Commerce, Delhi University and is a Law graduate from the Campus Law Centre, Main Campus, Delhi University. He is actively involved with the functioning of ILO Consulting, with the vision of providing quality legal and professional services to the clients & businesses around the world.

He is currently on the board of the reputed Indian as well as International companies and has advised clients across diverse sectors on all aspects pertaining to joint ventures, inbound investments and acquisitions.
He is a frequent speaker in many Domestic & International Conferences & has spoken about business, commercial & legal matters in India & Europe.

He regularly contributes to Jordan Publishing-Lexis Nexis on International Corporate Procedures & World Bank Survey on Ease of doing business.


Gautam Khurana actively writes on Indian Law and has authored more than 100 articles on various subject matters which are published by various legal magazines, Indian newspapers & on various law websites worldwide.

Some of his articles are listed below:

https://www.vantageasia.com/make-in-india-a-win-win-for-local-and-foreign-companies/

https://www.vantageasia.com/top-tips-for-us-companies-doing-business-in-india/

https://www.vantageasia.com/doing-business-in-india-a-mountain-of-challenges/

https://www.indiary.org/en/legal-advice/India-Entry-Strategy-2-79-34

International Joint Ventures Book-The Comparative Law Yearbook of International Business
https://books.google.co.in/books?id=FWAuAQAAIAAJ&q=gautam+khurana+%26+morazzi&dq= gautam+khurana+%26+morazzi&hl=en&sa=X&ved=0ahUKEwjwrc7HyfbTAhWHpo8KHaYzDPIQ6AEIKjAB

Doing Business 2017-Equal Opportunity for All-
https://books.google.co.in/books?id=KxKwDQAAQBAJ&pg=PT1019&dq=gautam+khurana&hl= en&sa=X&ved=0ahUKEwj63MSEyvbTAhUHK48KHUAAcEQ6AEIJjAB#v=onepage&q=gautam%20khurana&f=false
Doing Business 2016: Measuring Regulatory Quality and Efficiency-
https://books.google.co.in/books?id=STxSCwAAQBAJ&pg=PA296&dq=gautam+khurana&hl=en&sa=X&ved= 0ahUKEwj63MSEyvbTAhUHK48KHUA_AcEQ6AEIPDAF#v =onepage&q=gautam%20khurana&f=false
How we can help you?
To discuss how Ilo Consulting team can help your business achieve results, please
Contact us