Indian Toy Industry is all set to get a big push post the Government's decision to ban Chinese Apps. Here is an analysis of current sc
INTRODUCTION


The toy industry in or country has seen quite a number of new developments over the past few years with newer categories of toys coming in ad more innovation to better designs in the structure and various other areas.
The evolution of the toy industry has shown tremendous growth & expansion within the domestic market which has been estimated at Rs. 5750 Crores (approximately $78.5 million) per annum currently (factory produced toys by MSMEs & large units plus imports) which have been rising at the rate of 10-15% every single year. Moreover, with new age parenting skills there has been an evolution amongst parent in India with respect to the kind of toys they introduce to their infants or children, which has led to a tremendous boost in educational toys and games constructed out of plastic a cardboard with the intent of increasing creativity. These toys often result in the higher development of the child's rain functioning and development.
At present, the toy industry in India, is facing severe competition from the Chinese toy imports since China is arguably the largest exporter of toys in the world. However, due to the impact of the Covid-19 pandemic over exports and imports, even the Chinese markets have witnessed a downfall in their growth in this area and a huge untapped potential has been realised within our domestic toy markets, especially considering how vast our population is and keeping in mind that the major part of India's population is under 25 years old.


Furthermore, the global market for toys is estimated at US$ 80 billion (Rs 4.8 lakh crores). This figure does not comprise of the untapped MSME toy manufacturers as exports from India, since toys currently comprise of less than 0.08 percent of this huge market. Even though a large variety of toys are available within the Indian market, they can be broadly classified into two very distinct categories on the basis of their application & purpose i.e. educational and recreational toys. Amongst these two categories, under Educational toys various toys & games made out of plastics and cardboard materials are under prominence, while recreational toys primarily including electronic toys such as remote controls, video games, battery operated toys, cars, plastic toys, dolls, soft toys and mechanical pull back toys are not popular amongst modern parents. However, out of all of these toys, the electronic toys & games as well as the battery-operated toys are not being manufactured in India at present and are instead being imported. But as far as most other categories are concerned, these are being manufactured in India as well as being imported.
IMPORT STATISTICS FOR TOYS IN INDIA
India's import of toys in financial year 2018-2019 stood at $1.4 billion (around INR 10,000 crore). Almost 85% of the toys sold in India are imported, with China being the top source, followed by Sri Lanka, Malaysia, Germany, Hong Kong and the US.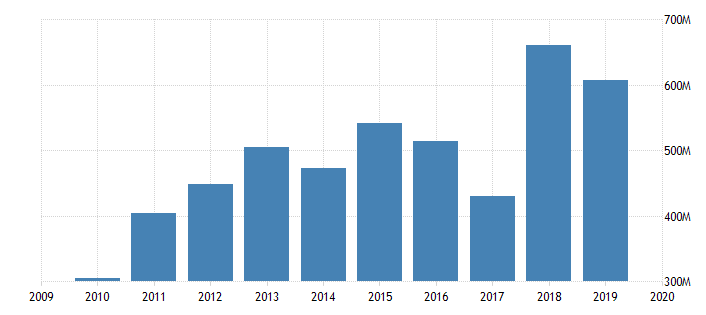 EXPORT STATISTICS FOR TOYS FROM INDIA & MAJOR DESTINATIONS


The export value of toys, games and sports equipment from the country during the 2016 financial year, amounted to around INR 18.92 billion (approximately $260 hundred thousand). The major countries acquiring a great share in exports are the UK, USA and the UAE.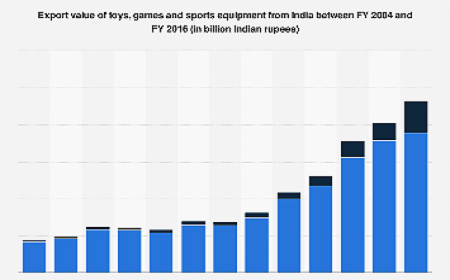 MAJOR HUBS & CLUSTERS FOR MSMES ENGAGED IN TOYS MANUFACTURE IN INDIA
The MSMEs that are engaged in the manufacture of toys in India are spread out all over the country with the Northern and Western regions occupying a large chunk of this industry's population, with nearly 88 % of the total number in their control. This fact can be better understood by the table provided below which covers all the primary hubs and clusters for all MSMEs engaged in the manufacture of toys in our country.
| | | |
| --- | --- | --- |
| Region | Approx. Distribution of toys manufacturing MSMEs (%) | Prominent States in the region |
| Northern | 70 | Delhi, UP (Noida & Greater Noida) |
| Western | 18 | Maharashtra (Mumbai) |
| Other Regions | 12 | West Bengal ( Kolkata), Karnataka (Bangalore),Tamil Nadu (Chennai) etc |
CREDIT LINKED CAPITAL SUBSIDY SCHEME (CLCSS) FOR TECHNOLOGY UPGRADATION OF THE SMALL SCALE INDUSTRIES- SUBSIDY PROVIDED FOR THE TOY INDUSTRY IN INDIA
The Ministry of Small Scale Industries (SSI) has been operating a scheme for the technological upgradation of the Small Scale Industries (SSI) in India though the Credit Linked Capital Subsidy Scheme (CLCSS).
The Scheme aims at facilitating technology upgradation through the provision of upfront capital subsidy to all SSI units, including tiny, khadi, villages and coir industrial units, on institutional finance availed off by them for the modernisation of their production equipment (which is their plant and machinery) and techniques.The eligible amount of subsidy calculated under the pre-revised scheme was based on the actual loan amount not exceeding Rs.40 lakh (approximately $54.4 thousand).This Scheme has provided for a 12 per cent capital subsidy to all SSI units, including tiny units, on institutional finance availed of by them for the induction of well-established and improved technology within selected sub-sectors as well as the products approved under the Scheme.
Due to insufficient investment and the sheer lack of awareness of both the quality standards and all access to modern technologies, a large percentage of such SSI units continue with outdated technology and plant & machinery.With increasing competition because of the liberalisation of the economy, the survival and growth of the SSI units are critically dependent on their modernisation and technological upgradation.
It is in this background that the finance minister made an announcement in the Budget Speech of 2004-05 to raise the ceiling for loans under the Scheme from Rs. 40 lakh(approximately $54.4 thousand) to Rs. 1 crore (approximately $1.4 hundred thousand) and the rate of subsidy from 12 per cent to 15 per cent.
Furthermore, in light of the experiences gathered for implementing the Scheme, certain other modifications were also required in order to make it more useful to the SSI units, including tiny, khadi, village and coir industrial units, in taking up technology upgradation on a larger scale.
After considering these issues, the CLCSS has been amended as follows:
The ceiling on loans under the Scheme has been raised from Rs. 40 lakh (approximately $54.4 thousand) to Rs. 1 crore (aroximately $1.4 hundred thousand).
The rate of subsidy has been enhanced from 12 per cent to 15 per cent.
The admissible capital subsidy is to be calculated with reference to the purchase price of plant and machinery, instead of the term loan disbursed to the beneficiary unit.
The practice of categorisation of SSI units in different slabs on the basis of their present investment for determining the eligible subsidy has been done away with.
The operation of the Scheme has been extended upto 31st March, 2007.
Objective:-


This revised scheme primarily aims at facilitating any and all kinds of technological upgradation through the provision of a 15 per cent upfront capital subsidy with 12 per cent prior to 29.09.2005 to all SSI units, including tiny, khadi, village and coir industrial units on institutional finance availed of by them for the induction of a well-established and improved technologies within the specified sub-sectors and products approved under the scheme.

Sl. No.

Activity

Technology Need

Cost
(Amount in USD)

Advantages

Toys-Soft toys.

Garnetting Machine.

$4774

Avoids bunching of the fiber fill, increases fluffiness and softer feel.

2) Metal Detector-

Tunnel type with conveyor belt

Detection-Ferrous 1.5mm, Non-ferrous-2.0mm.

$4774

Assists in detecting ferrous/non-ferrous parts specially broken needles from soft toys.

3) Hydraulic Gear/Press cutting machine Automatic / Semi automatic type.

$7502

Can cut upto 6 layers of fur fabric and 30-50 layers of velour fabric.

4) Sewing machines

Type – Single needle lockstitch machine, medium to heavy type fabrics.

$164

$246

4) Stuffing machines.

Approx. $955 for a single point machine to $1705 for a double point machine.

To increase speed and consistency of stuffing in a toy, a stuffing machine is used. In this the carded/opened PSF is filled using blowers.

Plastic Moulded / extruded products & parts / components including toys.

1) CNC Milling Machine.

$24552-$45012

Improves productivity, quality and reduces time in manufacture of dies & moulds.

2) CNC Wirecut Machine.

$10,912

3) Electric Discharge Machine.

$13640

4) CAD/CAM Software :

Scanner / Digitiser

$13640

Making of Board Games, puzzles and educational games.

From manual to automatic operation

$20460-$27280 for indigenous machine.

A proven technology ensures product quality, consistency, cost effectiveness and productivity enhancement.

ASSOCIATIONS AND COMMITTEES GOVERNING TOY INDUSTRY IN INDIA
Following are the Associations and Committees which govern the Toy Industry in India:

1. Toy Association of India (TAI), New Delhi A) Profile of Toy Association Of India (TAI)
The Toy Association of India (TAI) has its headquarters in New Delhi and had been established in 1995 with the primary objective of bringing together the toy manufacturers, traders & end users in order to promote higher business relations amongst them.
The Toy Association of India (TAI) has its presence from all over the country comprising of members from different states.
At present the Toy Association of India (TAI) has more than 600 registered members from all over India out of which approximately 275 are simply the toy manufacturers while the rest are the importers, exporters, wholesalers, distributors, retailers and suppliers of toys.

Support Services offered by Toy Association of India (TAI) to its members
The primary goal and the support offered by The Toy Association of India (TAI) are as follows:
To unite the Toy Industry in order to bring forth better interaction between the manufacturers and the traders.
To represent the industry's problems and its various requirements with the government.
To recommend and suggest the import and export policies and duties to the Government of India, while considering the interest and growth of the Toy Industry.
To create a more conducive working relationship between the Industry and the Government.
To assist the toy industry with upgradation of their units with modern plant and machinery in order to maintain higher quality and safety of the toys.
To organize fairs and exhibitions in various areas of the country for bringing together the manufacturers, traders and the end users to keep them abreast of the modern play-way methods and acting as a bridge between importers and exporters.
2. The All India Toy Manufacturers' Association (TAITMA), Mumbai
The All India Toy Manufacturers' Association (TAITMA) has its headquarters in Mumbai which had been established in 1976 and has more presence in the Western region.
At present, TAITMA has nearly 150 registered members of which about a 100 are toy manufacturers while the rest are importers, exporters, wholesalers, distributors, retailers and the suppliers of toys.

Support & Services offered by TAITMA to its members
The main objectives of the All India Toy Manufacturers' Association (TAITMA) to its members are as follows:
To bring all toy manufacturers under one common platform.
To propagate a code of ethics amongst the manufacturers against any plagiarism of other ideas and products.
To seek financial assistance and subsidies from all the available funding that the government institutions solely provide for the growth and development of the toy industry.
To educate and convince the manufacturers for applying to better safety standards formulated by Bureau of Indian Standards, GOI to raise the quality of products more.
To encourage the participation in toy fairs and exhibitions.
TOY INDUSTRY GEARING UP FOR ATMANIRBHAR BHARAT


The Atmanirbhar Bharat mission is one which was started by the Government of India during the first wave of the pandemic. The mission, in alignment with the Make in India scheme, is an effort by the Indian government to boost local manufacturers, and the toy industry isn't separate from it.


The Indian toy industry has been affected positively by the present situations. According to IMARC group, the Indian toy industry has seen an expansion in the market and its value has reached $1.23 billion in the financial year 2020. Further, it is expected to grow further at a CAGR of 12.2 per cent during the five-year period of 2021-2026, which is substantial considering the past trends.


However, a large number of toys still continue to be imported from China, which account for a whooping 70 per cent share of the market. Despite the fact that Indian toys are cheaper, built of better-quality material and through eco-friendly means, the same don't find a high place in the eyes of buyers due to trend of buying imported and technologically advanced goods.


Conclusion


With India's huge unskilled population and a considerable toy market available at its disposal domestically, the government is making the right efforts to enhance the domestic trade of toys. Chinese toys in Indian hands had become a normal trend, which shouldn't have been the case considering that India's toy industry existed but remained underdeveloped at the while.


It is the right time that India's potential in terms of toy industry be unleashed, because world is now looking at India as a manufacturing hub, rather than the earlier China that lost its credibility after the COVID-19 pandemic.

October 14, 2020