Manish Behl,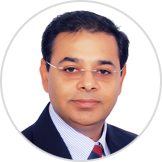 Manish Behl is a serial entrepreneur with over 24 years of experience in International Business, Retail, Food, Agricultural, Commodities, Trading, Supply Chain Management and Product & Brand Development. A product and market expert, he has widely travelled around the world and has in-depth knowledge of key markets such as Indian Subcontinent, West Africa, North Africa, USA, Middle East, China and South East Asia. He is fluent in Hindi, Punjabi, English and French.
An avid golfer, guest speaker at various events and conferences on topics of International Business, Marketing and Branding, Retail, Business and Product forecasting with their impacts and market scenario, Government policies, Strategic business planning, Capital formation and consumption patterns, he has been covered by The Economics Times, Exchange4media, Retail journals, Food and Agriculture forums.
A Bachelor of Economics, Indian Institute of Foreign Trade (IIFT) alumni he has also been a student of International Business Program at Indian Institute of Management Kolkata IIM-C and Management Development Program in International Agri Business and Risk Management from IIM Ahmedabad.
He guides, motivates and encourages to bring positive change through yogic practices, mindfulness, energy healing, spiritual coaching and meditation. His purpose in life is now to help people find inner peace and greater satisfaction in their lives.

With expertise in the field of international trade development, innovative global business strategies, Import and Export marketing, multi ethnic and cultural operation, and public relations, he has been at the forefront in successfully leading and building brands and companies to exceptional progress in both international and domestic markets.
Through his vast acquired localized knowledge, creative mind and sharp business acumen, he has proven experience in assisting organized Food, retail, start-ups, entrepreneurs, micro and small and medium-sized enterprises in managing international trade, and developing new revenue streams through business opportunities, identifying new markets and launching new products.
With a keen interest in education and with the desire to empower the future generation of India, Manish teaches the youth to help them understand the challenges in International business, Marketing and Retail across India and Global markets.
How we can help you?
To discuss how Ilo Consulting team can help your business achieve results, please
Contact us